| | |
| --- | --- |
| | To be included in The Tribune's Babies of 2013 edition, Weld County residents may register here to submit your baby's photo for $30 by filling out a convenient online registration and credit card payment form. This ensures your baby will be included in our print edition of Babies of 2013 and automatically enters your baby into the cover baby contest and a random drawing for a $150 photo shoot! |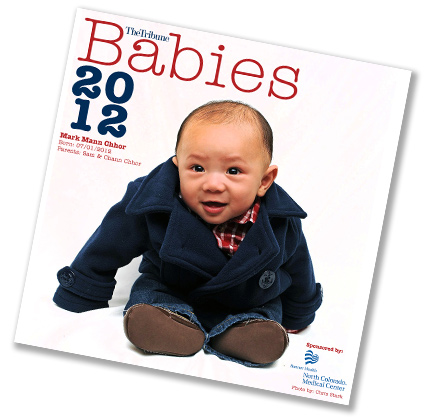 » $30 per child if submitted online. Click the "Submit a photo" tab above to begin.

» $35 per child if submitted in person at The Tribune office, 501 8th Ave., Greeley.



All photos submitted for Babies of 2013 enter a contest to be this year's cover baby, appearing on the front of the Babies of 2013 section in print.

Enter your baby early for the chance to get more votes! Photo submissions and votes will be accepted online through midnight Jan. 13. Click on the "Vote" tab for details.



Voting is free and open to the public through midnight Jan. 13. Help us decide which baby should be on the cover by clicking the "Vote" tab to pick your favorites. You can vote up to three times per day, so come back often!



» The winner of the cover baby contest gets their photo on the front of this year's Babies of 2013 print edition, distributed on Jan. 31st.

» A random winner will also be drawn from all the baby photos submitted. This winner will get a $150 gift certificate to Kim Cormier Photography and a Baby Gift Basket. Click on the "Prizes" tab for details.



| | | | | | | | |
| --- | --- | --- | --- | --- | --- | --- | --- |
| All times are in Mountain Time. | | | Completed | | Current | | Future |
Fri, Dec 13 2013 7:00 AM -
Sun, Jan 19 2014 11:59 PM
Fri, Dec 13 2013 7:00 AM -
Sun, Jan 19 2014 11:59 PM